En me promenant sur myspace, je suis tombé sur le profil d'une Demoiselle qui écoute exactement la même chose que moi en Darkwave! Qu'est-ce que cela signifie? Ne suis-je donc pas unique? Bref, je me poserai ces questions le moment venu, pour l'instant je vous donne le lien pour avoir un aperçu des groupes influents en Darkwave/EBM.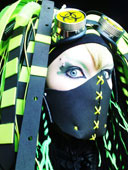 Le Darkwave ou l'Electro Body Music est un mix entre la culture techno/electro et gothique. Les thèmes retrouvés sont ceux de la musique gothique ( je meurs, j'aime la souffrance, ma copine/copain m'a quitté je vais me suicider…) et les sonorités techno. Visuellement parlant, on oscille entre du Gothique, et plus souvent du CyberPunk. Enjoy it.
http://www.myspace.com/industrialgirl69 (profil non accessible à l'heure de la réedition de ce post)
Madame industrialgirl possède vraiment de bons gouts musicaux, et je vous copie ci-dessous la liste des artistes qu'il faut garder en tête en pensant darkwave :
And One
Nam nam bulu
Combichrist
And One (deezer)
Icon of Coil
Das Ich
Apoptygma Berzerk (quoique un seul album soit EBM)
VNV Nation
Deine Lakaien
Frontline Assembly
Front 242
Wolfsheim (deezer)
Unheilig
Velvet Acid Christ
Depeche Mode
In Strict Confidence
The crüxshadows
Covenant ( deezer )
J'en petit à petit peut être en réécoutant!